Let us explain why we accept only Crypto
RouleGENIUS is an INDEPENDENT project, we are NOT sponsored by any casino but fight AGAINST them! For this reason, after 5 years of activity, some casinos started to get LOSSES and asked us to CLOSE our project! We refused their request and continued helping people in having a profit at roulette.

During the last months, some casinos threaten to find us and close our activity. For this reason, to rest protected and guarantee you access to RouleGENIUS for the next years,  since 1st January 2023 we had to suspend momentarily the direct transactions to our bank/card, and accept only crypto payments which are 100% anonymous and safe. 
But you don't have to worry. You still can get RouleGENIUS paying with a card, the only exception is that you have to use a card for buying crypto first, and then use that crypto for getting the License.  The full guide is explained with images below. 
How to Buy a License using credit or debit Card ?
The procedure to buy a license using your credit/debit card is very simple and requires only 1-2 minutes. 
Below is a full guide with images on how you can purchase crypto with your own card and send it to us instantly. The Procedure takes only 1 minute.  It does NOT require any identity document (like a driver's license or passport) unless your country is not considered as high-risk. 
Set the PRICE (based on the package you want to buy) and set the Currency to GBP (British Pounds). Check prices on the next link: Available Packages and Prices
Ensure that you are going to buy Bitcoin (BTC).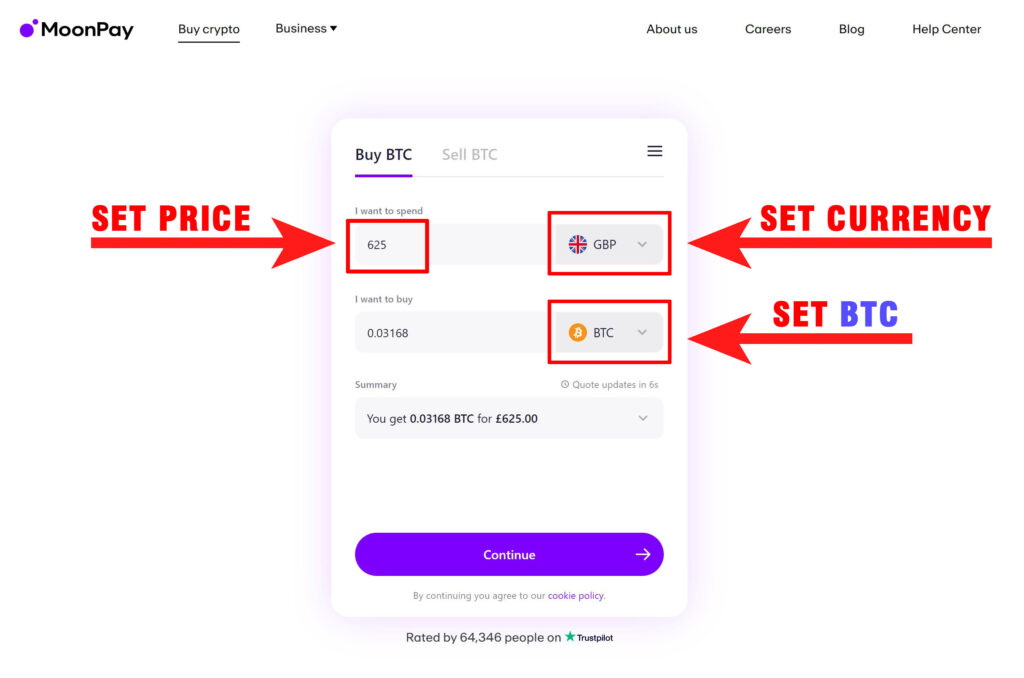 Write your Email and click Continue. MoonPay will send a Verification Code through Email.

Check your Email, get the Verification Code and write down in the MoonPay Form.  
IMPORTANT:  If your country is NOT considered as high-risk by MoonPay, then you should be able to see the screenshot below. In case your country is considered as high-risk (usually for Countries from Asia like India), then you have to prove that you have 18+ age. Once you send them a document as proof, you will be able to proceed and see the screenshot below regarding Wallet Address. 
You are going to send money from your card directly to RouleGENIUS RouleGENIUS BTC Wallet, so write as the wallet address the next code: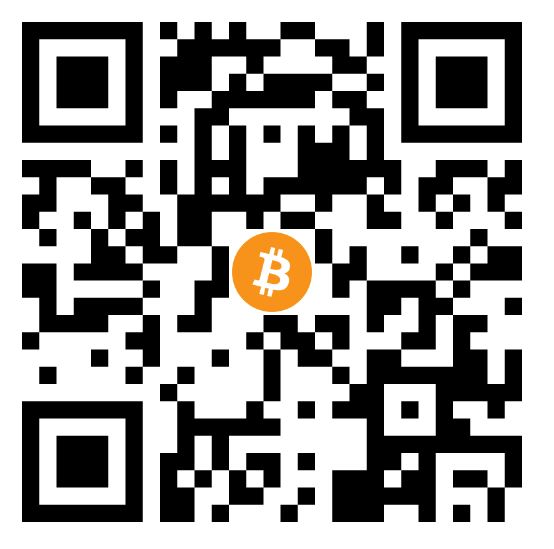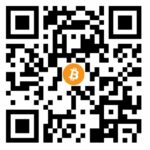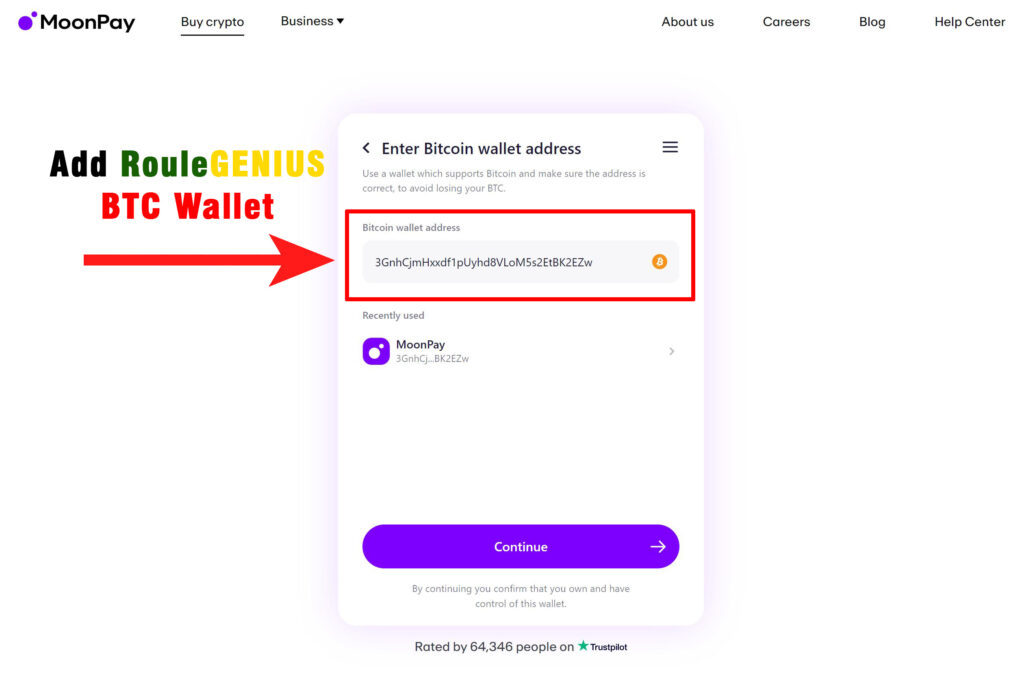 IMPORTANT: You are going to send money from your card directly to RouleGENIUS (without creating your own wallet), so you may be asked to confirm that the Wallet Address is safe (like in the screenshot below).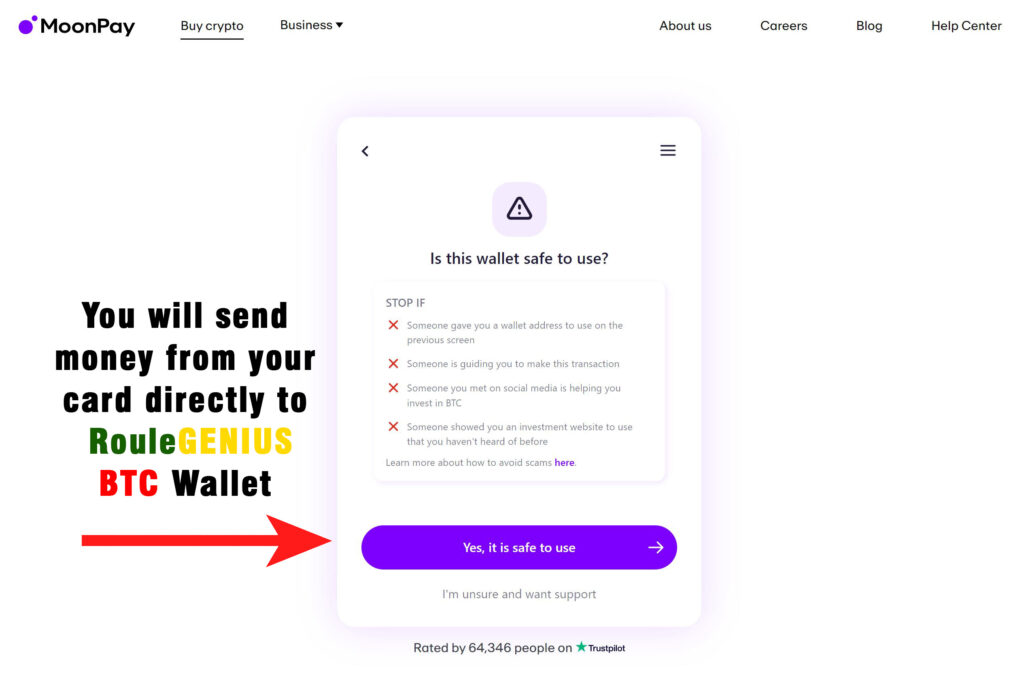 Finally add your Card details, Accept the  given term and complete the payment.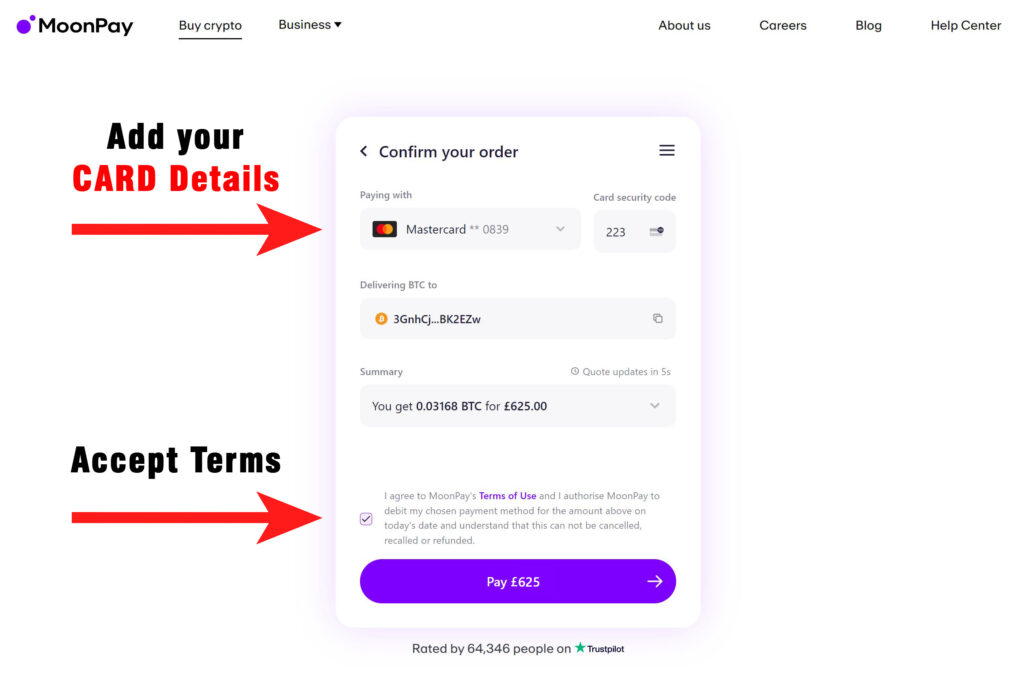 How to receive the paid license?
Once your transfer is complete, you will receive in your Email a Link with the transaction details (from MoonPay). Share that link with any of our assistants and you will receive your License within 5 minutes. 
Here are our contact links:
WhatsApp: +447389640282
Telegram: @RouleGENIUS 
Email: support@roulegenius.com