Introduction: Free Roulette Game
1. The Benefits of a Free Roulette Game
The thrill of the spinning wheel, the anticipation of the ball landing on your lucky number, and the adrenaline rush of winning – it's no wonder roulette has been a fan favorite for centuries. But what if you want to enjoy the excitement of the game without financial risk? Enter the world of free games! In this article, we will explore the benefits of playing roulette for free, how to improve your strategy, and the best platforms to play on. So, let's dive into the world of free roulette games and embark on a risk-free journey of fun and excitement.
A free roulette game offers an opportunity for players to enjoy the excitement of the roulette wheel without the risk of losing their hard-earned money. Here are some key benefits:
A. Risk-Free Fun: Playing roulette for free allows you to enjoy the game without worrying about losing money. This means you can place bets, try out new strategies, and simply have fun without any financial pressure.
B. Improve Your Strategy: Free games give you the chance to practice and refine your strategy, helping you become a better player when you decide to play for real money. You can experiment with different betting systems and learn the ins and outs of the game at your own pace.
C. Accessibility: Free roulette games can be played on various devices, such as desktop computers, laptops, tablets, and smartphones. This means you can enjoy the game whenever and wherever you want.
2. Understanding the Basics of Roulette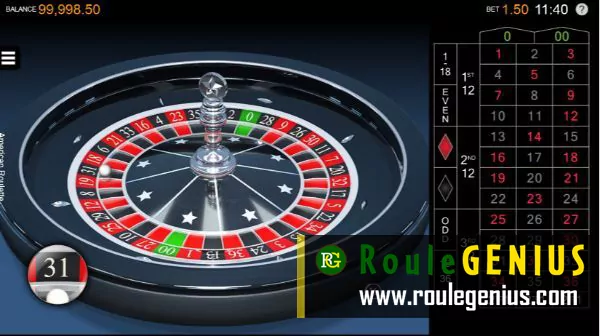 To fully enjoy a free roulette game, it's essential to understand the basics of the game. Roulette consists of a spinning wheel divided into numbered pockets, a ball, and a betting table. The primary goal is to predict where the ball will land once the wheel stops spinning. There are two main types of roulette: European Roulette (with a single zero pocket) and American Roulette (with a double zero pocket).
The betting table is where you place your bets. There are two types of bets in roulette – inside bets and outside bets. Inside bets are placed on specific numbers or combinations, while outside bets cover broader categories, like odd or even numbers, red or black, and high or low numbers. Each bet has its own odds and payouts.
3. Tips for Playing Free Roulette Games
Here are some tips to get the most out of your free roulette game experience:
A. Learn the Rules: Before playing, familiarize yourself with the rules of the game, the betting options, and the different types of roulette.
B. Experiment with Strategies: Use free games as a testing ground for different betting strategies, such as the Martingale, Labouchere, or D'Alembert system. Find a strategy that suits your playing style and helps improve your chances of winning.
C. Manage Your Bankroll: Although you're not playing with real money, it's still essential to manage your virtual bankroll effectively. This will help you develop good habits that can be applied when playing with real money.
4. The Best Platforms for Free Roulette Games
There are numerous platforms where you can enjoy free roulette games. Here are three of the top online platforms to try:
A. Online Casinos: Many online casinos offer free roulette games for players to practice and enjoy. These games typically use the same software as their real-money counterparts, ensuring an authentic experience. Some popular online casinos with free roulette games include 888 Casino, Betway, and LeoVegas.
B. Dedicated Roulette Websites: Some websites specialize in offering free games for players to enjoy. These websites often provide a variety of roulette variations, detailed game guides, and tips for improving your strategy. A few notable dedicated roulette websites include Roulette77, OnlineRoulette.org, and RoulettePractice.com.
C. Social Gaming Platforms: Social gaming platforms, such as Facebook and mobile apps, also offer free roulette games. These platforms typically provide a more casual, social experience, allowing you to compete with friends and other players worldwide. Zynga's "Hit It Rich!" and Playtika's "World Series of Poker" are two popular examples of social gaming platforms that offer free roulette games.
Conclusion:
A free roulette game is an excellent way to enjoy the thrill of the roulette wheel without the financial risk. It provides a risk-free environment to practice and refine your strategy, learn the rules of the game, and simply have fun. With countless platforms available, you can easily find the perfect place to play free roulette games, improve your skills, and experience the excitement of this classic casino game. So, why wait? Dive into the world of free roulette games today and enjoy the thrill without the risk.
---
IMPORTANT: This content was written by RouletteSoftware.com and may not reflect RouleGENIUS' vision.
---