RouleGENIUS Roulette Layout Features (HOT PREDICTIONS)
RouleGENIUS is a roulette software predictor that gives winning predictions for any type of roulette. It has a very smart design with an attractive roulette layout table inside. On the top left side, you can see a recording panel, used by clients to record their session and send it to us. We check what they're doing wrong and help to fix errors and increase winnings.
---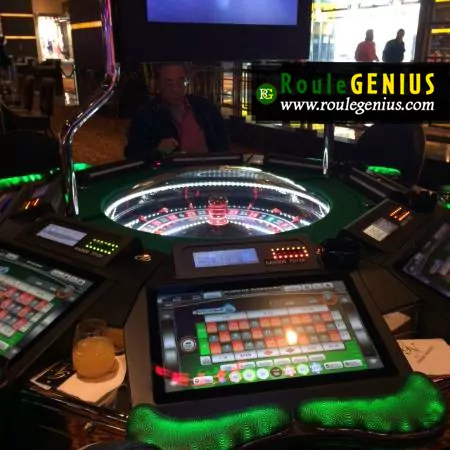 On the top-left is the configuration button, used to access the settings panel, where you can set your roulette name and platform in order to get predictions for your specific roulette. In the top-middle part is the hot wheel, which indicated the top areas after a specific number. The predictions from the table – are showed also on the wheel to see hot areas and bet on them (please watch the video above to have a view of the roulette layout).
In the middle part is the heart of the software that shows you the predictions for all types of bets: single numbers, outside bets, columns, and dozens. You can also see, for each of them, the percentage of winning. On the left is the statistics panel that shows the numbers you click on and also the download section if you want to download the app on a desktop or mobile. On the bottom left part of the roulette layout, you can see the login details panel, which shows when you registered last time.
IMPORTANT: RouleGENIUS packages include PERSONAL Licenses, so you're NOT authorized to share or try to sell your personal license. Use the login details panel to check if someone else is using your license. Since our system detects different IPs or connections – you've 7 days to contact our assistance and ask to change your personal license, otherwise, if you don't inform our assistance, the system will block the license and you will LOSE it forever.

Extra features about RouleGENIUS Roulette Predictor
It is useful to see if anyone else is using your license, and on the right the cleaning buttons – in case you type them by mistake the wrong numbers. RouleGENIUS is a Universal software, so you needn't know the English language for using the software.
The roulette software is an innovative 2023 roulette predictor that gives winning predictions for ANY roulette.
RouleGENIUS – together we are stronger to beat roulette!
The secret of winning at roulette is to understand how exactly it's working. For this reason, we published the first FREE Video COURSE on the web about how to win at roulette. This course teaches you about the roulette algorithm and how it actually detect winnings predictions. Follow the FREE Course and increase your income.
So if you like it, get our ELITE Package where we reveal secrets about how to reach 94.7% of winning! And that is NOT all: we also offer you 25 secrets to WIN at roulette and a full pdf guide!
In case you've questions about the RouleGENIUS roulette layout design, don't hesitate to write us through LIVE Chat or Email: support@roulegenius.com
---
Features: #1 How to Download RouleGENIUS Online Roulette Predictor?
Features: #2 What is the LIVE Version of RouleGENIUS Predictor?
Features: #3 How to use RouleGENIUS on Mobile, Tablet, and PC Version?
Features: #4 What is the procedure for playing with RouleGENIUS Predictor?
Features: #6 What is the statistical panel of RouleGENIUS?
Features: #7 CLEAR and RESET Button in RouleGENIUS Software
Features: #8 What is RouleGENIUS Percentage of Winning?
Features: #9 How to Record Roulette Session using RouleGENIUS?
Features: #10 LOGIN Details (track if someone uses your license)
---
Useful Links that may interest you:
About the Secrets: What are THE 25 SECRETS TO WIN at roulette?
About Configuration: Video Tutorials about how to configure RouleGENIUS Roulette Predictor
About Proofs: Winning Video proofs of using RouleGENIUS roulette software
FAQ Page: The most FREQUENT asked QUESTIONS from visitors
Purchase: SEE the available PACKAGES to PURCHASE RouleGENIUS
---
RouleGENIUS – one step closer to WIN at roulette!