#1 Roulette Configuration: Roulette NAME and PLATFORM
RouleGENIUS Roulette Predictor is a statistical software that guarantees NO MORE than 4 consecutive losses in a row. In order to not get more losses, you must configure (apply a roulette configuration) your software and save settings (by clicking on the top right button), but also apply the 25 secrets to WIN at roulette.
You're FREE to use any of the roulette configuration options provided: RouleGENIUS databases or upload your OWN database, that is your choice (which is the best option is written into the 25 secrets to win at roulette).
The two most important roulette configuration settings in RouleGENIUS Predictor are the Name of roulette, which is easy to identify because it's always written, and the Roulette Platform, which is the company that created that specific game, it is NOT the casino name, often is visible during the loading time once you launch a specific game.
---
Example: by refreshing the page, as you can observe, the roulette platform is NetENT company, and the name of roulette is 3D roulette, so you will have to choose: as the name of roulette – 3D roulette, and as the name of the platform – NetENT company. If you are in doubt about which is the right roulette configuration, then contact our assistance.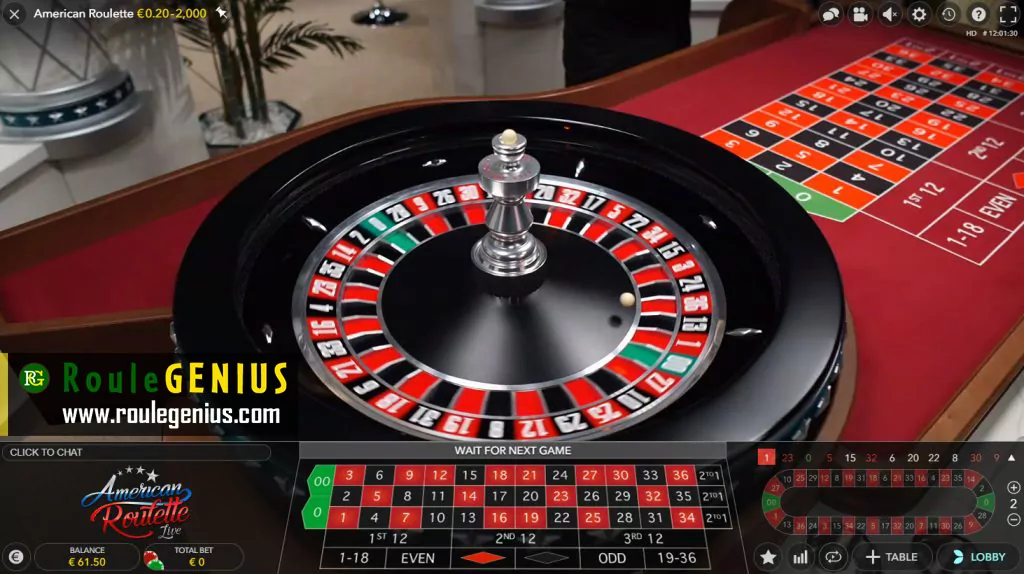 Please pay attention that not always there exist a real platform company. In fact, as you can see in this example, during loading time, there is NO real platform indicated. This means that the roulette is NOT licensed, it is a fake one, and even the layout has a 2d design, created by an amateur. So we hardly advise: DO NOT play such roulette. In this case, no roulette configuration will be good enough to beat the casino!
If you want to know about the RouleGENIUS feature, give a look: Which are the RouleGENIUS roulette software features?

One more example to understand the concept
Let's see one more example: suppose you want to play on an American Roulette Premium. In this case, as you can see, the platform is the same, so we will have to choose not only as Name of roulette American Roulette, and platform – NetENT, but also the type of roulette as double zero. As you can observe, the RouleGENIUS layout changed to double zero, so now you can start playing.
Connecting by FTP to the RouleGENIUS database server, you can see more than one thousand database lists, taken from all types of roulette. When you choose a name and a platform, the software goes and searches for the database that most suits your own configuration, so that's why it is very important to set the right one.
Example: for the configuration, we set previously, 3D roulette and NetENT company, the software will study one of these databases and will give predictions based on it. There are 600 numbers taken from 3d roulette by the NetENT company. All these databases are updated weekly, so that's why you will get the best predictions ever!
FREE Roulette Course Online
RouleGENIUS published the first FREE Video COURSE on the web about how to win at roulette. This course teaches you about the roulette algorithm and how it actually detects winnings predictions. Follow the FREE Roulette Course and increase your income. So if you like it, get our ELITE Package where we reveal secrets about how to reach 94.7% of winning! And that is NOT all: we also offer you 25 secrets to WIN at roulette and a full pdf guide!
---
Above you can find the link to more video tutorials about configuration:
More videos about configuration:
#0 Configuration: Introduction to the configuration layout
#2 Configuration: How to set the prediction amount option?
#3 Configuration: the type of bet and the hot wheel predictor
#4 Configuration: How to create the OWN Database list?
#5 Configuration: Automatic Regeneration Database
---
Useful Links that may interest you:
About RouleGENIUS: Which are the RouleGENIUS roulette software features?
About the Secrets: What are THE 25 SECRETS TO winning at roulette?
About Proofs: Winning Video proofs of using RouleGENIUS roulette software
FAQ Page: The most FREQUENT asked QUESTIONS from visitors
---
RouleGENIUS – the innovation is in our hands!